Where are the countries of the Western Balkans with their applications for EU membership?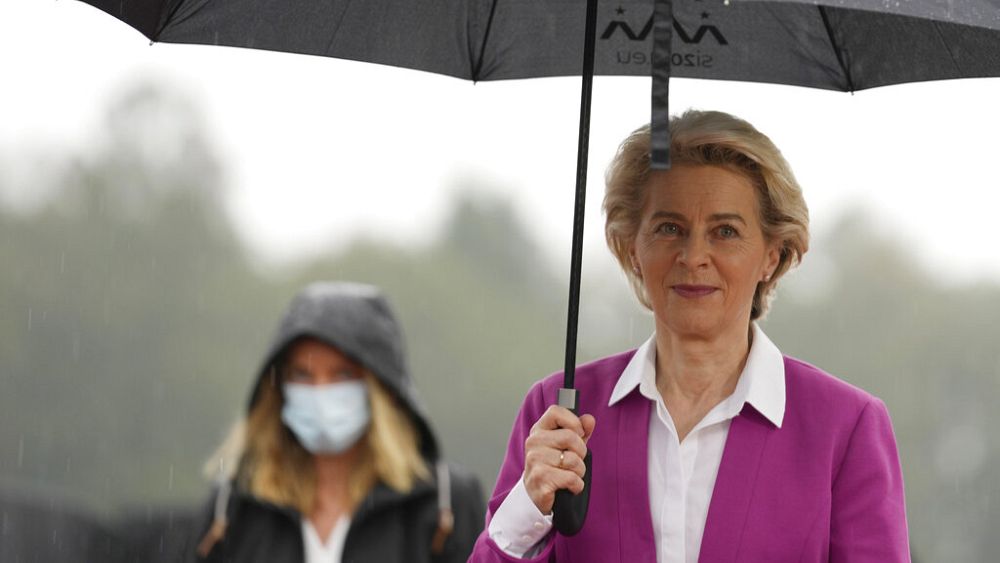 [ad_1]
The European Union is organizing a summit on joining the six-nation bloc of the Western Balkans.
Leaders are meeting in Slovenia amid widespread pessimism about expanding the union to include Serbia, Kosovo, Albania, Montenegro, North Macedonia or Bosnia and Herzegovina.
Brussels is on the verge of re-committing to enlargement, but so far without clear deadlines.
According to former Croatian Foreign Minister Vesna Pusic, the recent outbreaks between Kosovo and Serbia have their roots in EU neglect.
"I have lived here all my life here and the region is in this state – unstable and fragile since the wars of the 90s," Pusic told Euronews. "Both segments of the political and corporate elites have to some extent given up hope of ever joining the union."
Where are the countries of the Western Balkans in their applications for EU membership?
The six Western Balkan countries are at different stages, with Montenegro and Serbia officially opening accession negotiations.
North Macedonia
North Macedonia applied for EU membership in 2004.
While fulfilling criteria to start entry talks, EU member Bulgaria opposes inclusion of North Macedonia over language and identity dispute national.
"We have taken all the necessary measures and we have made all the necessary reforms. We will take further acceptable steps to unblock EU enlargement and we hope Bulgaria will unblock this process, "Macedonian Prime Minister Zoran Zaev said.
But the government in Sofia, which wants North Macedonia to formally recognize that its language has Bulgarian roots, has given no sign that it is ready to lift its veto. And other EU countries have not shown a strong desire to speed up the process.
Albania
Albania applied for EU membership in 2009, but despite meeting all EU requests, membership talks have not yet started.
Since the offers of Albania and North Macedonia are linked and the launch of the accession talks requires the unanimous approval of all EU countries, the Sofia veto also prevented Albania to move forward.
"It is in fact taking us hostage at a time when we have fulfilled all our tasks and are waiting to sit around the table with the European Union to start negotiations," Albanian Prime Minister Edi Rama said.
Montenegro
Montenegro applied for EU membership in 2008. Membership talks, which started in 2012, are advanced.
33 preselected chapters have been opened and three are provisionally closed. The main obstacles remain corruption, organized crime and the health of the economy.
EU membership is so far scheduled for 2026 for the small Balkan countries.
Serbia
Serbia applied for EU membership in 2009. Membership talks started in 2014, but continuing tensions between Serbia and Kosovo have delayed the process.
"It is vital that Kosovo and Serbia normalize their relations," said Ursula von der Leyen, President of the European Commission. "The EU-facilitated dialogue is the only platform to resolve the current crisis. "
Serbia, the largest of the Western Balkan countries, has forged close ties with China and Russia despite warnings from the West about the influence of the two powers in the region.
Public interest in membership has gradually waned in Serbia, and its leaders have very often sent mixed signals about their genuine commitment to the EU.
"All these years, if not decades, we have listened to the promises of EU membership," said Serbian parliament speaker Ivica Dacic. "The question is, which generation will see these promises come true? Why don't they just tell us: 'we don't want EU enlargement anymore', and we will accept it as a reality? "
Kosovo
Kosovo is a potential candidate for EU membership.
Five EU members – Cyprus, Greece, Romania, Slovakia and Spain – do not recognize Kosovo as a country.
"The future European integration of Kosovo – like that of Serbia – remains closely linked to the EU-facilitated high-level dialogue between Kosovo and Serbia, which should lead to a comprehensive legally binding agreement on the normalization of their relations" , according to a European Parliament fact sheet. .
Bosnia
Like Kosovo, Bosnia has been seen as a potential candidate for EU membership since 2003.
The country applied for EU membership in 2016.
But according to a briefing note from the European Parliament, "internal political instability and the lack of political reforms have hampered the country's prospects for EU membership."
_ Watch the full interview with Euronews presenter Tokunbo Salako in the player above. _
What are the obstacles to EU membership?
Membership depends on improving democratic standards and socio-economic reforms, but despite the progress made on these issues, the door to the EU apparently remains closed.
"The biggest risk in the region is really a constant and constant setback to the rule of law and media freedom," Majda Ruge of the European Council on Foreign Relations told Euronews. "You basically have issues of political interference from key states in neighboring states, especially Serbia and Croatia."
The delay in the progression of memberships varies from country to country. Bulgaria, for example, has vetoed negotiations over North Macedonia over a language dispute.
Other EU countries generally remain cautious of new members, fearing a new wave of migration to Western member states.
In France, this is of particular concern for President Macron as he runs for office next year.
"The French elections play a very important role, of course, and it is understandable that President Macron does not want anything that can in any way have a detrimental influence on his campaign and his chances of winning a new term," Pusic said.
As membership talks stagnate, other nations such as China and Russia have quickly provided investments and exerted influence on countries in the region.
The EU has so far offered more funding to the Western Balkans, but divisions among members mean that enlargement seems off the menu for now.
[ad_2]