SEE countries set up regional task force to jointly diversify gas supplies and boost energy security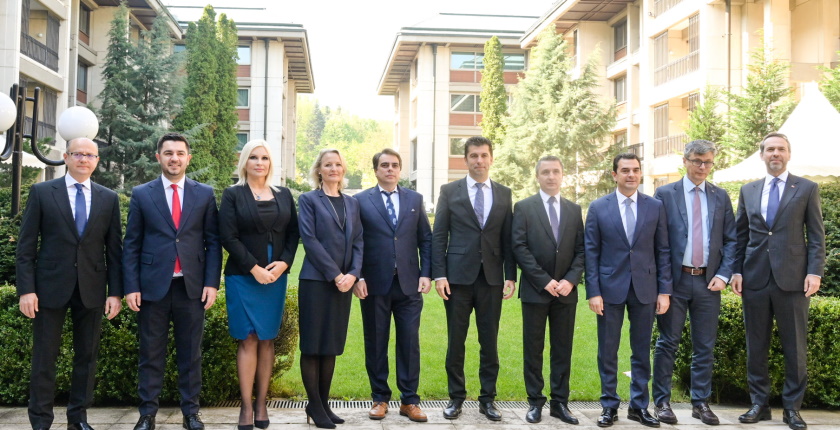 Southeast European countries set up the first regional task force, under the EU Energy Purchasing Platform, the bloc's platform for common purchasing gas, LNG and hydrogen. The objective of the working group, set up today in Sofia, is for SEE countries to jointly diversify their energy supplies, especially gas supplies, and strengthen energy security. States, mostly dependent on Russian gas supplies, insisted on the unity and solidarity of the region to find solutions to the energy crisis.
Representatives from Azerbaijan, Bulgaria, Greece, North Macedonia, Romania, Serbia, Ukraine, Turkey and the European Commission also discussed decarbonisation and the green transition.
The working group was established at a ministerial meeting titled "Southeast Energy Transition – Regional Cooperation for Energy Security, Diversification and Transition". The Ministers of Energy and Environment of Bulgaria, Alexander Nikolov, Greece, Kostas Skrekas, Serbia, Zorana Mihajlović, North Macedonia, Kreshnik Bekteshi, Azerbaijan, Parviz Shahbazov, Ukraine, Herman Haluschenko, Turkey, Alparslan participated. Bayraktar and Romania, Virgil Daniel Popescu. Also present at the meeting were Ditte Juul Jorgensen, Head of the European Commission's Directorate-General for Energy, as well as Bulgarian Prime Minister Kiril Petkov and Finance Minister Assen Vassilev.
The regional task force will support and coordinate joint preparedness plans, including international procurement, storage and interconnections
The regional working group is the result of the meeting held a week ago between representatives of the European Commission and Bulgaria following a decision by Gazprom to stop gas supplies to Bulgaria Bulgargaz for non-payment in rubles.
The commission then said the working group would look at gas and electricity needs, prices and flows, as well as infrastructure-related aspects.
It will support and coordinate the implementation of joint preparedness plans in the region, including international procurement, storage and interconnections, as well as provide specific regional expertise and know-how to develop and implement the plan. REPowerEU action plan, said the committee.
Juul Jorgensen: EU will propose solutions for regional energy security
Ditte Juul Jorgensen, head of the European Commission's Directorate-General for Energy, said energy has been weaponized and the best response is solidarity, BTA reported.
Russia's decision to stop deliveries is an attempt to divide the EU, and the response must be solidarity, she said.
According to Jorgensen, the commission's experts will present options for regional energy security. Guidance will come from the task force, she said.
Nikolov: put aside differences and unite to find the best solutions
Bulgarian Energy Minister Alexander Nikolov said most of the solutions being considered are medium to long term, BTA reported. Short-term ones are linked to the spot market, such as an agreement between the gas supply companies of Greece and Bulgaria – DEPA and Bulgargaz, which would optimize their costs.
Nikolov called on all countries to put aside their differences and come together to find the best solutions.
Bekteshi: the interconnection with Greece would provide an alternative to Russian gas
Kreshnik Bekteshi, Minister of Economy of North Macedonia, also called for unity and solidarity and the setting aside of historical issues.
North Macedonia is a small Balkan country, but it is involved in all regional initiatives to ensure the security of gas supplies, as well as to diversify sources of supply, he added.
Bekteshi said the gas interconnector with Greece is in the final stages of construction, while another near Strumica is being negotiated with Bulgaria. Currently, North Macedonia has only one gas entry point, a gas pipeline from Bulgaria, and its only supplier is Russia.
---
Serbia will be able to import LNG from September 2023
On the sidelines of the ministerial meeting, the companies Bulgartransgas and DZZD International Gas signed an agreement on the design, delivery of materials and equipment, construction and commissioning of the Bulgarian part of the gas interconnection with Serbia .
Serbian Energy and Mines Minister Zorana Mihajlović said work on the Serbian side began in January. It expects the pipeline to be completed by September next year. The interconnection will secure Serbian alternatives to Russian supplies, from LNG terminals in Greece or Azerbaijan, she said.
---
According to Romanian Energy Minister Virgil Daniel Popescu, cooperation, adaptability and diversification are tools to end dependence on Russian gas supplies.
Plans to use gas as a transitional fuel must now be reconsidered, while investments in renewable energy must be accelerated, Popescu said.
Mihajlović: diversification and common strategic reserves are key to regional security
Serbian Deputy Prime Minister and Minister of Mines and Energy Zorana Mihajlović said diversification of gas supplies and common strategic reserves are essential for regional security. The vital priority for Serbia is the completion of the interconnection with Bulgaria, she added.
Different supply routes and suppliers of gas and oil, in his own words, is the only way for a country to be stable, because when a country is unstable, it affects the whole region.
The meeting sent a message of solidarity
The meeting is the basis for all decisions we will make as a region, in cooperation with the European Commission and the Energy Community Secretariat, including coordinated implementation of plans, purchase and storage in common, as well as the continuation of the construction of interconnections, she said.
Mihajlović also highlighted Serbia's intention to build interconnections with Romania and North Macedonia.
The regional working group will help reduce dependence on one supplier and increase energy security in the region, Mihajlović said, and added that the meeting sent a message of solidarity.


Post views:
5