President Egolf finally steps up predatory lending | Legislature | New Mexico Legislative Session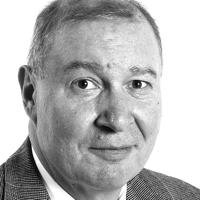 No one would encourage a politician who took a stand in 1975 for the desegregation of water fountains and public toilets.
Segregation of public facilities was prohibited by the Civil Rights Act of 1964. The best I can say about a desegregation laggard is that he has decided to move on to the good side of the story.
On a similar basis, I can't applaud New Mexico House Speaker Brian Egolf for finally co-sponsoring a bill to overthrow predatory loan companies. The proposal would reduce the annual interest rate on installment loans from 175% to 36%.
Egolf, D-Santa Fe, has served in the Chamber since 2009, and has been its speaker since 2017. He has long known that storefront loan companies charge exorbitant interest rates on New Mexico's poorest people. , enslaving them to indebtedness.
He could have shown the way to reduce the interest rate. Instead, Egolf accepted money from the industry, which he dismisses as having no bearing on his actions or inaction.
Egolf offered little resistance last year when Rep. Eliseo Alcon, D-Milan, amended a Senate bill to raise the proposed interest rate from 36% to 99%. This happened on the House Judiciary Committee, on which Egolf and Alcon sit together.
Alcon's amendment was actually drafted by credit industry lobbyists and lawyers. Alcon admitted its lack of expertise. He prefaced his introduction of the amendment by saying he knew nothing about money, and a look at his bank account would prove it.
Egolf could have asked Alcon why he suddenly thought 99% was reasonable. And Egolf should have said that tariff was an affront to the public.
Credit unions plunged into legislative debate when they announced they could offer most installment loans at 36% or less.
Alcon's amendment passed with the help of Republicans and two of his fellow Democrats, Representatives Georgene Louis of Albuquerque and Micaela Cadena of Mesilla.
Egolf told me he worked hard behind the scenes to cut interest rates to 36%. From memory, he contacted many members of the House to defend the less crippling interest rate.
Whatever his private efforts, he cemented the demise of last year's bill by appointing a hardliner for the lending industry, Rep. Patty Lundstrom, to a conference committee. The panel was supposed to try to resolve the differences between the House and Senate bills.
But the two parties never met. Each accuses the other of having caused the talks to fail. Their stalemate kept the 175% interest rate on the books – exactly what the store loan industry wanted.
Lundstrom, D-Gallup, received $6,000 from storefront lenders in the 2020 election cycle, the most of any House member, according to a report by New Mexico Ethics Watch.
Egolf was third among members of the Chamber of Industry Contributions at $3,650.
The Brian Egolf Speaker Fund – a separate campaign account as a committee of the legislative caucus – received significantly more money, according to the Ethics Watch report.
"Storefront lenders also contributed $51,700 to various PACs during the 2020 election cycle. Nearly half of those contributions went to the Brian Egolf Speaker Fund," Ethics Watch said.
Egolf told me that he did not remember any of the contributions. He downplayed PAC donations in particular.
"That money didn't benefit me," Egolf said. "He went to the Democratic House candidates in close, contested races."
Egolf maintains that he wanted to reduce the interest rates charged by storefront lenders, even though they contributed to his campaign and his PAC.
He also said he has no regrets over the collapse of the Reform Bill last year.
" No I do not know. Your question ignores all the other stuff I was working on," Egolf said.
But it's impossible to ignore that the Egolf Democrats control the House 45-24-1. They needed 36 votes to secure passage of the bill to cut interest rates.
A few House Democrats said there was not enough support to pass the bill. As for Egolf, he claimed he was paying attention to other issues and was not involved in the loan bill after it was rewritten.
Now, says Egolf, he is more committed to the movement to lower oppressive interest rates.
He is co-sponsoring a measure to reduce the rates to 36%. It's Bill 132.
Egolf called Rep. Susan Herrera, D-Embudo, the bill's lead sponsor. He said he and Rep. Joy Garratt, D-Albuquerque, were co-sponsors.
"I'm doing everything in my power to get this bill passed and escalated to the governor," Egolf said.
Why is Egolf sponsoring the addition this year?
"I always supported him, and Susan asked me to," he said.
Egolf assigned the bill to two committees – Consumer Affairs and Public Affairs, then Judiciary, where it was badly rewritten last year.
But the bill could go to the Appropriations and Finance Committee instead of the judiciary. Egolf and the bill's other sponsors have requested $180,000 to develop a financial literacy program for public schools.
This maneuver gave life to the bill. Democratic Gov. Michelle Lujan Grisham has not added bills to cut store lending rates to the Legislature's agenda for this 30-day session.
By inserting a budget request into their bill, Egolf, Herrera and Garratt dodged the governor. Bills that affect the budget are considered relevant without the governor's approval.
Storefront lenders and their army of lobbyists will campaign to continue charging interest rates of up to 175%.
Egolf says he wants to stop them. He likes less to talk about what took him so long.
Ringside Seat is an opinion column about people, politics and current affairs. Contact Milan Simonich at msimonich@sfnewmexican.com or 505-986-3080.