Pandora Papers Reports on the Middle East and North Africa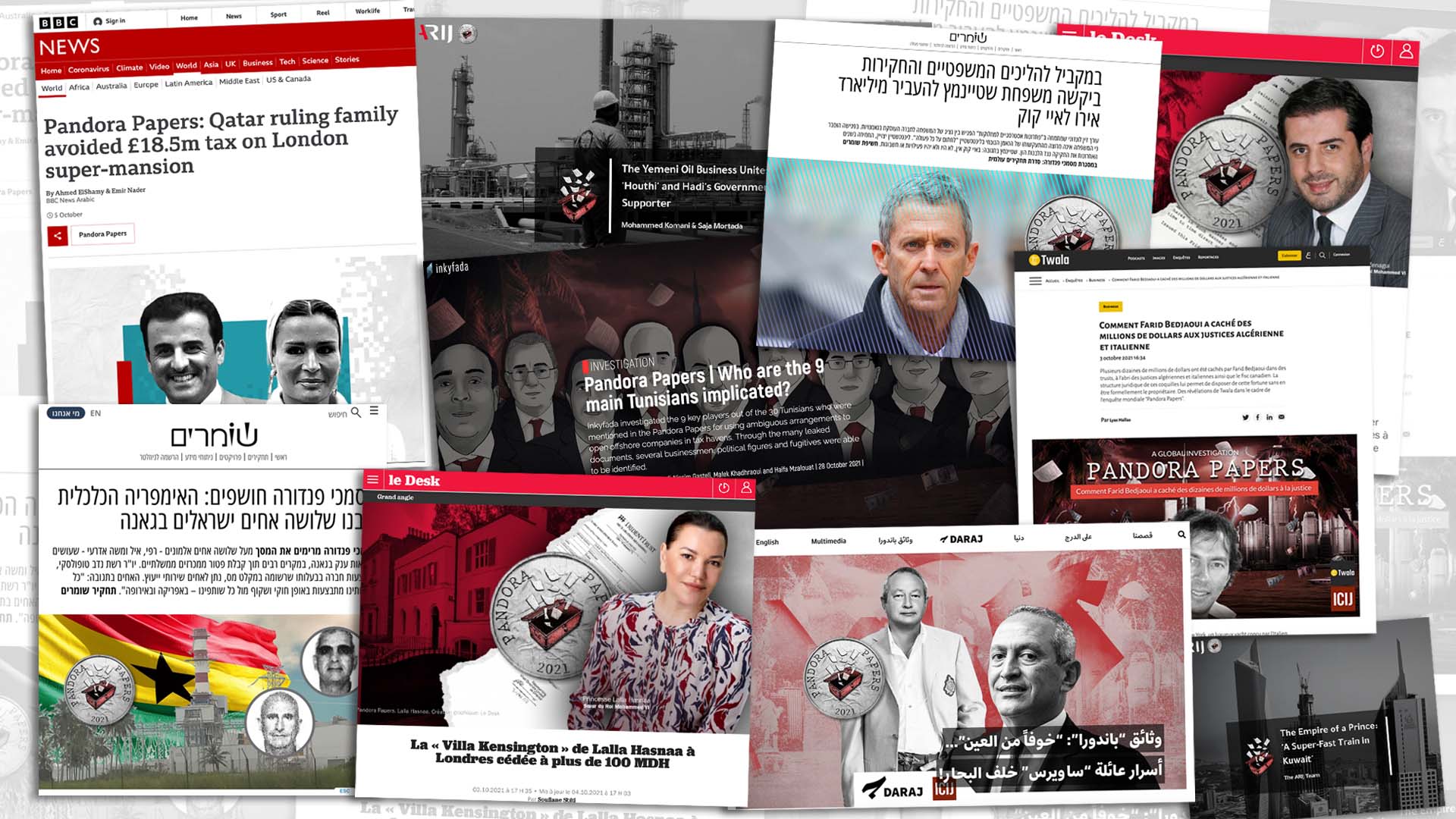 Since October, journalists from the Middle East and North Africa have published articles based on a mine of nearly 12 million leaked documents exposing the grim offshore financial system that allows the rich and powerful to get rich, often at the expense of the public.
These documents, which come from a group of 14 offshore service providers with offices around the world from Samoa to South Dakota, are the basis of the Pandora Papers, an investigation by the International Consortium of Investigative Journalists. and a global network of reporting partners. .
The survey highlights the rise of the UAE as a major offshore center in the financial world. Five of the companies at the heart of the Pandora Papers have offices in Dubai.
The Pandora Papers are ICIJ's largest ever collaboration, with more than 600 journalists from 117 participating countries. It is also one of the the biggest collaborations ever of journalists from the Middle East, with over 25 journalists from across the region contributing to the project.
Here are some highlights from Pandora Papers of ICIJ partners in the Middle East and North Africa.
Algeria
Algerian news agency Twala reported on Farid Bedjaoui, the nephew of a former government minister, who holds millions of dollars in assets beyond the reach of Algerian and Italian authorities, in New Zealand-based trusts. and shell companies registered in his brother's name.
Bedjaoui had previously been named in the Panama Papers investigation, which revealed that he had used a group of offshore shell companies, many of which were created by Panamanian law firm Mossack Fonseca, to facilitate bribes. $ 275 million wine between the Algerian government and an Italian energy company to win lucrative pipeline contracts.
Bedjaoui, who earned the nickname 'Mr. 3%' for the cut he allegedly took for himself, was acquitted of criminal charges in Italy in 2020, but the Italian energy company – which was also acquitted of criminal charges – settled with the Securities and Exchange Commission for $ 24.5 million.
Egypt
In Egypt, the Arabic Reporters for Investigative Journalism news network discovered that oil tycoon Magdy Rasikh's company, Fleet Energy, had been approved to import natural gas into the country and supply it to homes and businesses. – despite the fact that Rasikh was convicted in absentia on charges that he and a former government minister colluded to embezzle public funds.
Israel
Israeli media center Shomrim reported on the holdings of billionaire film producer Arnon Milchan in the British Virgin Islands. Milchan, who was linked to fraud charges filed against former Israeli Prime Minister Benjamin Netanyahu, is the beneficial owner of offshore companies that have purchased luxury real estate in New York and Malibu and hold hundreds of millions of dollars in art and antiques.
Shomrim also uncovered documents indicating that the family of mining tycoon Beny Steinmetz were seeking to transfer more than $ 1 billion in funds from Liechtenstein to the Cook Islands and cited three brothers who used companies registered in the islands. British virgins to win government contracts in Ghana.
Kuwait
ARIJ also reported on the sons of a late Kuwaiti Emir, who owns "one of the greatest economic empires in Kuwait, the Gulf and possibly even the Middle East", despite a long-standing tradition that the ruling family does not engage in private affairs.
Lebanon
Daraj Media, another multinational Arab reporting network, investigated Lebanese banker and former government minister Marwan Kheireddine, who set up companies in the British Virgin Islands at a time when a financial collapse wiped out the economies of many Lebanese citizens like Wafaa bu Hamdan, a 57-year-old widow who told Daraj that she had lost the equivalent of $ 60,000.
Daraj also spoke of a wealthy Egyptian family with millions of dollars tied up in offshore accounts and Lebanese businessmen named in the Pandora Papers who were accused of helping fund Hezbollah.
Morocco
Moroccan newspaper Le Desk discovered that Lalla Hasnaa, the sister of King Mohammed VI, had used a British Virgin Islands-based company Oumaila Limited to own a house in London's upscale Kensington district. She sold the house for more than $ 10 million at the end of 2020, and it is not known if any of that money was repatriated to Morocco.
Le Desk also mentioned Hugo Yassir Zenagui, a former government minister who used his French passport to set up a company in the Seychelles, and Faïçal Mekouar, the managing partner of the Moroccan branch of the international accounting firm Grant Thornton. Mekouar created a company whose shares were held by a Panamanian foundation, and this foundation paid dividends into Mekouar's personal account in Spain
Qatar
BBC News Arabic reported on the ruling Al-Thani family of Qatar, who used offshore companies to buy two of the UK's most expensive homes in a deal that allowed them to avoid more $ 25 million in "stamp duty," a tax charged by the government on documents that legally record certain transactions.
Saudi Arabia
The ARIJ discovered that Saudi Defense Ministry agents had used an offshore company to purchase weapons, including white phosphorus mortar shells, from a Serbian organization. Photographic and video evidence confirms that some of these weapons ended up in the hands of ISIS in Yemen.
Tunisia
In Tunisia, the independent media and design collective Inkyfada investigated nine of the main Tunisians named in the Pandora Papers, including Belhassen Trabelsi, the brother-in-law of former dictator Zine El Abidine Ben Ali.
Inkyfada discovered that Trabelsi, who has been in exile since a revolution in 2011, was the sole shareholder of three companies established in Panama in 2016. Trabelsi had previously been named in the ICIJ's Swiss Leaks survey.
Yemen
In Yemen, ARIJ found documents showing that a key economic adviser to President Abdrabbuh Mansur Hadi is a part-owner of a company that carried on oil activities in territory controlled by the Houthi rebel group.
See more Pandora Papers stories from the Middle East and stories from your country here.