'It's not Ukraine's fault': Emerging Europe this week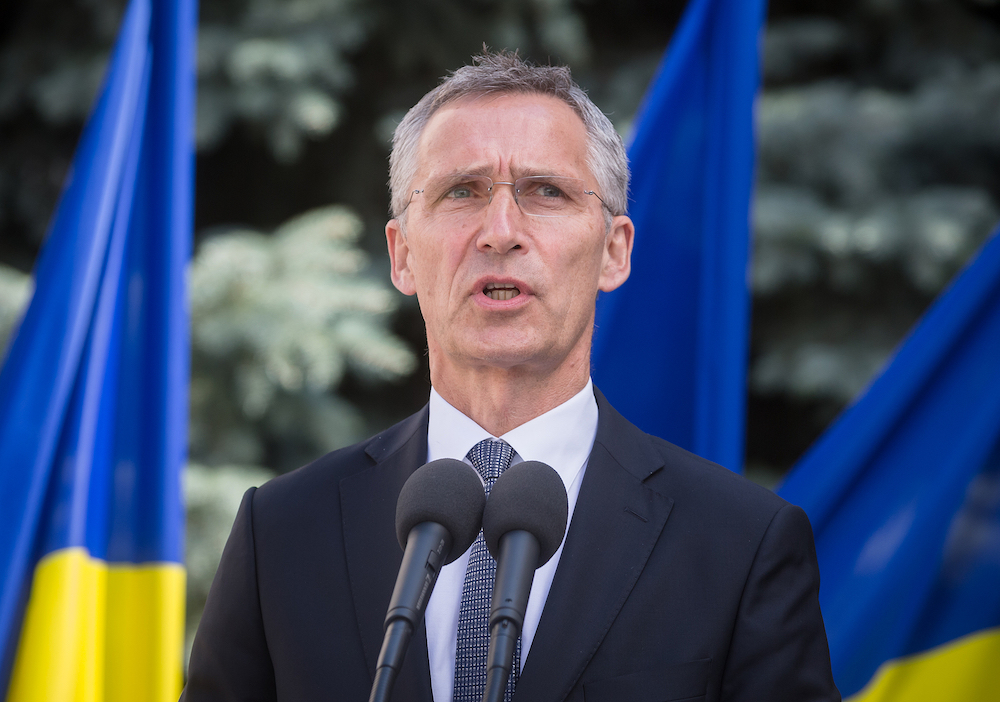 You can read all of our coverage of Russia's invasion of Ukraine, including explanations and articles offering background and background information here.
---
The Russian invasion of Ukraine
A rocket hit the Polish village of Przewodów late Tuesday, killing two people. The village is only a few kilometers from the border between Poland and Ukraine.
While speculation that Russia had attacked a NATO member quickly spread, Poland played down the possibility that it had come under direct Russian attack. The country's President, Andrzej Duda, said Wednesday afternoon that it was "highly probable" that the rocket was fired by Ukraine's anti-aircraft defense in order to shoot down a Russian missile.
NATO agreed, with alliance chief Jens Stoltenberg (pictured above on a previous visit to Kyiv) saying the rocket was "most likely" fired by Ukrainian air defense systems However, he added that, "It's not Ukraine's fault".
"Russia bears responsibility for what happened in Poland, because it is a direct result of the ongoing war and Russia's wave of attacks on Ukraine," Stoltenberg said.
The incident led to renewed calls for a NATO-patrolled 'no-fly zone' on Ukraine, although Germany signaled it would oppose such a move, warning it risked escalation. The United States is also believed to be against policing a no-fly zone.
The Przewodów incident happened during the biggest Russian rocket attack on Ukraine for several weeks.
Ukrainian authorities said it was a new attack targeting the country's energy infrastructure. Deputy Head of the Presidential Administration Kyrylo Tymoshenko said the energy situation across Ukraine was "critical" as a result. Sometime early Wednesday nearly 10 million people were without electricity.
Neighboring Moldova also temporarily experienced major power cuts after Russian strikes downed a key power line that supplies the country.
"As a result of Russia's bombardment of Ukraine's energy system in the past hour, one of the power lines that provides electricity transmission for our country has been disconnected," the Minister of Foreign Affairs said. Infrastructure Andrei Spinu in a press release. "This led to massive power outages across the country."
Thursday, Ukraine and Russia have agreed to extend their agreement which allows the export of grain through the Black Sea.
The deal, first struck in July, created a protected maritime transit corridor aimed at easing global food shortages by facilitating Ukraine's agricultural exports from its southern Black Sea ports. It has now been extended for another 120 days.
Also Thursday, a Dutch court has found three men guilty of murdering 298 people on board flight MH17, which was shot down by a Russian surface-to-air missile while flying over eastern Ukraine in 2014.
The court handed down life sentences to Russian nationals Igor Girkin and Sergey Dubinskiy and a Ukrainian, Leonid Kharchenko, after finding them guilty of bringing down the plane and murdering everyone on board. They were ordered to pay "more than 16 million euros" in compensation to the victims. The three men are still at large and it is still unclear whether they will ever serve their sentences.
A third Russian national, Oleg Pulatov, was acquitted due to lack of evidence about his role in firing the missile.
---
---
Other news
Liberal rights lawyer Nataša Pirc Musar won a run-off last Sunday to become Slovenia first female head of state. Pirc Musar beat former Slovenian conservative foreign minister Anze Logar by 54% to 46%. His victory strengthens the country's liberal bloc after the victory of the centre-left coalition in the Slovenian general elections in April.
Hungary will set up an energy ministry as a separate entity from December 1, the prime minister's chief of staff said on Monday, as the government seeks to tackle soaring energy prices. The new energy minister will be Csaba Lantos, chairman of the board of the energy company MET Holding AG since 2009 and former deputy general manager of the Hungarian bank OTP. The change in government structure comes after Technology and Industry Minister Laszlo Palkovics resigned last week ahead of the planned transfer of the energy portfolio to a new energy ministry.
The European Union has warned Serbia and Kosovo Monday that they are on the edge of a precipice and must resolve their dispute over vehicle license plates before next week or face the prospect of a return to their violent past. Long-simmering tensions between Serbia and its former province have intensified in recent weeks following the Kosovo government's decision to ban Serbian-issued license plates. On November 5, 10 Serbian legislators, 10 prosecutors and 576 police officers from the Mitrovica region in northern Kosovo resigned following this decision.
Slovak Battery manufacturer InoBat announced on Monday that it has signed declarations of intent with the Serbian government to build an electric vehicle (EV) battery plant in the Balkan country with a capacity of up to 32 gigawatt hours (GWh). The plant will open with an initial capacity of 4 GWh in 2025. The Serbian government has agreed to provide funding of up to €419 million, including grants and tax incentives, to support the project, InoBat said.
Poland the central bank (NBP) has forecast inflation in 2022 to be 14.5%, falling to 13.1% in 2023, and declining to the single digit figure of 5.9% in 2024. The bank's inflation target of 2.5% should only be realized in 2025. According to Statistics Poland (GUS), in September this year, the inflation rate in Poland reached 17.2% while that in October it was 17.9%.
Romania Economic growth slowed more than expected in the third quarter, weighed down by a severe drought and the energy crisis triggered by the war in neighboring Ukraine. The country, however, dodged a quarterly contraction, surprising analysts and allaying concerns about a looming recession. Gross domestic product rose 4% from a year earlier while the economy grew 1.3% from the previous quarter, the statistics bureau said on Tuesday.
The European Commission this week called for Romanian, Bulgarian and Croatian citizens to be able to travel freely without a passport across Europe, which would extend the so-called Schengen area without border controls to 29 countries. The European executive has asked the European Council, the grouping of the 27 governments of the European Union, to take the necessary decisions to admit the three countries into the passport-free zone which some 420 million Europeans already benefit from.
A team of researchers from the University of Sofia in Bulgaria may have found a new method to detect wormholes, theoretical shortcuts through space and time. The new method involves detecting extremely specific machinations of light – a certain type of polarization that occurs in the theoretical throat of a wormhole – in order to differentiate specific gravity radiation from a wormhole with an exit. of an unavoidable black hole.
---
Unlike many news and information platforms, Emerging Europe is free to read, and always will be. There is no paywall here. We are independent, not affiliated with or representing any political party or commercial organization. We want the best for emerging Europe, nothing more, nothing less. Your support will help us continue to promote this magnificent region.
You can contribute here. Thanks.