Don't give up on the green agenda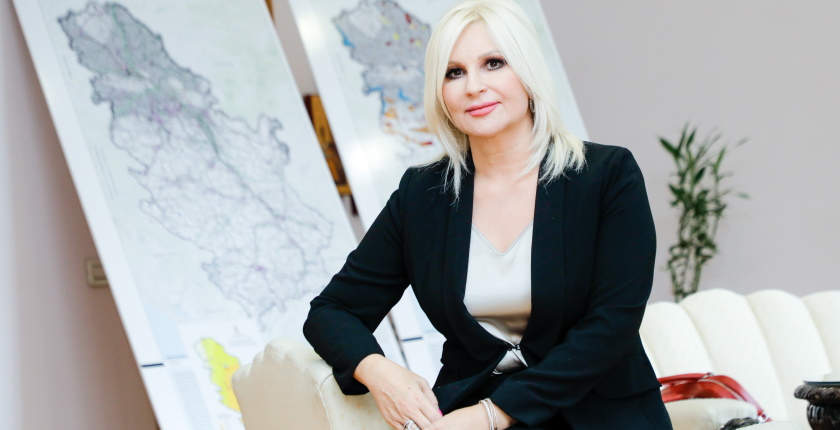 Author: Deputy Prime Minister of Serbia and Minister of Mines and Energy, Prof. Zorana Z. Mihajlović, PhD
Events in the energy market over the past year and a half have updated the famous maxim of energy experts that "energy is most expensive when it is scarce". In addition to all the other processes that have intensified over the past two years, since the COVID-19 pandemic, through the fight against climate change, which is a prerequisite for future development, since the onset of the attack on Russia versus Ukraine, we have a new geopolitics, and with it a new energy reality.
Despite all the measures that states are taking to provide enough energy and energy resources this winter, no one forgets the importance of the green agenda, but considers it a key instrument for establishing long-term energy security.
We are fighting the same battle in Serbia, to ensure that there is enough of everything in winter, and to adopt plans and strategies and prepare projects on which the energy security and overall sustainable development of our country depend in the decades coming.
Let's not forget that Serbia is at least a decade behind in the energy transition and cannot be compared to other countries that have almost completely replaced coal with other sources and are now activating them as a strategic reserve. Serbia may have "jumped" onto the last wagon of the green energy transition "train", aiming to join countries that have taken this path much earlier.
The new legislative framework is the basis for investment growth
Last year, a new legislative framework was adopted, including the first special law on the use of renewable energy sources (RES) and a new law on energy efficiency and rational use of energy.
In this way, we have created a basis for greater investments in these two most important areas for Serbia's energy future. In the field of RES, the objective is to accelerate investments in new capacities, because currently we only have 3.5% of energy produced from wind and sun in the energy mix, and almost 70% from coal.
New law recognizes green hydrogen as a renewable energy source for the first time
With the construction of pumped storage hydropower plants – Đerdap 3 and Bistrica, RES are expected to form the backbone of new capacity and energy security in the coming decades, along with other baseload energy sources. With the new law on the use of RES, we have also introduced a producer-consumer institute where citizens become active players in the energy transition, and for the first time we have recognized green hydrogen as RES, which represents the future of energy.
We have also launched a national program of energy rehabilitation, with the aim of giving all citizens the opportunity to increase the energy efficiency of their homes, by replacing roofs, doors and windows, improving insulation, by installing new boilers or installing solar panels on the roof of their house or building and thus becoming producer-consumers. The state, together with local authorities, has allocated approximately RSD 2.7 billion in subsidies for one year, which covers up to 50% of the costs of these investments in households in cities and municipalities across Serbia .
Energy transition is not a matter of obligations but the future of Serbia
This is not only a question of our obligations under the Paris agreement and the Sofia declaration for the Western Balkans, it is a question of our relationship with our future, if we want to have enough energy and clean rivers, land, air, and that means less CO2 and SO2 emissions, and a healthy Serbia that we leave to future generations.
Regardless of the resistance to the implementation of the new law on the use of RES from those who do not want to change, mainly in public and public companies, serious work has been done over the last two years to trace the Serbia's path towards what the whole of Europe aspires to energy security, green energy and a healthy environment.
All scenarios will be subject to a public debate to hear proposals and suggestions from companies, universities, the civil sector and citizens
Within the framework of two strategic documents – the National Integrated Climate and Energy Plan until 2030 with projections until 2050 and a new energy development strategy – we will establish long-term energy objectives energy, increasing energy efficiency, reducing harmful gas emissions, which, together with the new Energy Development Strategy, will pave our way towards energy transition by 2050.
The process will examine different scenarios for the development of the energy sector, which include, among others, scenarios involving nuclear energy. All scenarios will be submitted to public debate to hear everyone's proposals and suggestions, including the economy, universities, the civil sector and citizens.
We seek the widest possible consensus
Everything we do in the energy transition will be done in a planned way, gradually and with the broadest consensus. The green transition is a process that concerns all citizens, which means development, new investments and jobs, but it is equally important that it is fair and responsible for everyone, that we fight against fuel poverty and for a greater equality between women and men.
We have a harsh winter ahead of us, in which, as we struggle to get all we need in terms of energy and energy sources, we must not forget what our way is beyond this crisis and after it. Unfortunately, with the high price paid by the state and all citizens, we have seen the results, or rather the consequences, of the irresponsible and incompetent work of those whose main concern was to stop any change in Serbian energy.
With its new management, EPS must emerge from the energy crisis on its feet and not on its knees, and acquire new capacities, in particular from RES
Therefore, the most important task now is for EPS, with the new management, to come out of the energy crisis on its feet and not on its knees, and to build new capacities, in particular from RES, and to invest in the high-voltage network must be clearly planned and allow them access to it without discrimination.
Energy is the basis of development, and when it changes, the whole economy also changes. This is happening all over Europe, and it will happen in Serbia, and it is better to face these changes and be leaders than to wait for them to happen to us.


Post views:
1