Degeneracy, Depravity and the New Right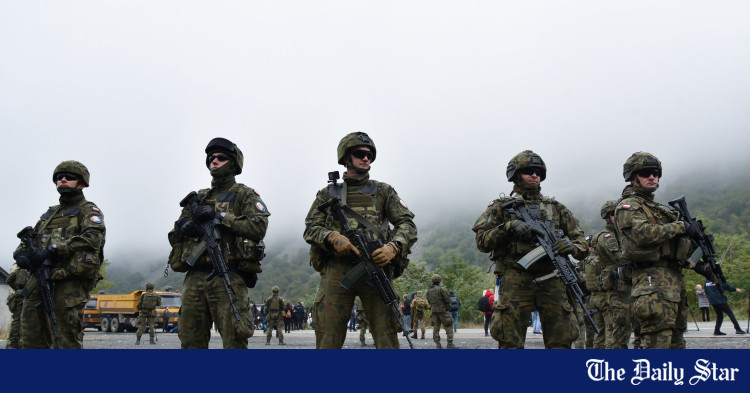 A recent crisis in northern Kosovo came and went quickly because no one wanted an escalation. But it will return, because Russia maneuvers in the shadows of the Balkans to stir up the tensions that gave birth to it. The mundane origin of the crisis shows how easily a spark can be fanned into a conflagration.
The Kosovo government had announced a measure requiring Serbs living in northern Kosovo to apply for local license plates, replacing their Serbian plates. But Serbs staged protests (with reports of gunfire) and roadblocks at two border crossings, prompting Kosovo authorities to delay the measure for a month while they discuss next steps.
For all the latest news, follow the Daily Star's Google News channel.
Serbia has long had a similar rule for Kosovar license plate holders on its territory, and Kosovo was simply trying to enforce the same standard. The problem, of course, is that Serbia does not recognize Kosovo as an independent state, even though the United States and a hundred other countries do.
It would be a purely local story if it were not involved in the geopolitical dynamics unleashed by the Russian war of aggression in Ukraine. But as Vladimir Đukanović, an MP for the ruling Serbian Progressive Party, channeling Russia's justification for invading Ukraine, recently put it, "Serbia could be forced to engage in the 'denazification' of the Balkans" . Even the phrase "forced to engage" echoes the Kremlin's outlandish line about being provoked by NATO aggression to invade Ukraine.
Moreover, Đukanović's reference to the "Balkans" follows the same logic as the Russian line, which implies that all of Europe, caught in the whirlwind of self-destructive degeneration (LGBTQ+, same-sex marriage, no clear gender distinction , etc. ), will eventually have to be "denazified". As Aleksandr Dugin, court philosopher to Russian President Vladimir Putin, explains, "We are fighting absolute evil, embodied in Western civilization, its liberal-totalitarian hegemony, in Ukrainian Nazism…"
According to this new conservatism, Nazism, Communism and enlightened hedonism amount to the same thing. But this gathering of opposites is really too much, even for a die-hard Hegelian. This exposes the glaring inconsistency not only of Kremlin propagandists, but also of the pro-Russian American and European alt-right, who claim to embody traditional Christian values ​​even as their words and actions endorse genocide and glorify sexual violence.
As a leading player in this culture war, the Kremlin intervened through its proxies not only in Kosovo but also in Bosnia, which it warned against joining NATO. Unfortunately, Western leftists and pacifists have simply chosen to ignore the geopolitical dimension of Putin's "denazification" project. As Jeremy Corbyn, the former leader of Britain's Labor Party, recently complained, "Pouring guns into [to Ukraine] will not bring a solution, it will only prolong and exaggerate this war. We could be for years and years in a war in Ukraine."
This position implicitly implies that Western governments should simply let Russia occupy Ukraine. It is, however, a strange "pacifism" that puts pressure on the victim (who must not defend themselves too vigorously) and their supporters (who must not help the target of the aggressor too much), rather than on the aggressor .
Western "pacifists" insist that we "de-demonize" Putin. There will have to be some kind of negotiation sooner or later, so we should treat him as a future partner. In fact, we should be doing the exact opposite: the attack on Ukraine forces us to re-demonize Putin, not personally but as an exponent of a dangerous geopolitical and ideological project.
There is mounting evidence that Russia is becoming something radically alien to those living in today's Western democracies, but all too familiar to students of European history. Consider the Russian Liberal Democratic Party's recent proposal to replace the term "president" with "pravitel" ("leader"). The former, according to the party, has "always puzzled" us, as it was first used in the United States, and only spread to the rest of the world "much later".
While the New Right's primary ideological target is Western "degeneracy," its fascination with strongman rule is steeped in obscenity. In a recent campaign appearance, Republican Arizona gubernatorial candidate Kari Lake said fellow Republicans Donald Trump and Florida Governor Ron DeSantis have "big energy."
It is a necessary, rather than contingent, feature of the New Right's defense of Christianity. To attract enough followers, its leaders must provide the pleasure surplus ("the pure pleasure surplus over standard satisfactions") of the obscene. An ideology that allows its adherents to act on their worst impulses can mobilize millions.
To take another example, isn't Russia's "peace-making military intervention" in Ukraine like the "legitimate rape" that US Representative Todd Akin, then Republican candidate for the Missouri Senate, defined in 2012? According to Akin, abortion should be banned outright, because if a woman experiences "legitimate rape," her body will somehow know not to get pregnant.
Outraged by the remark, Akin claimed he had "misspoke". What he meant was that there are "legitimate cases of rape" that the police refer to "when doing an investigation or whatever". But its basic message remained: if a woman becomes pregnant as a result of rape, she must have secretly wanted it, otherwise her body's "stress" reaction would have prevented it.
It is telling that Putin referred to Ukraine in the same way. During a press conference on February 7, he mocked the Ukrainian government's objections to the Minsk agreements, adding: "Like it or not, it's your duty, my beauty." The sexual connotations of this line are well known to Russians and Ukrainians from "Sleeping Beauty in a Coffin", by Soviet-era punk rock band Red Mold: "Sleeping Beauty in a Coffin, I slipped out and fucked her. Like that, or I don't like it, sleep sweetie."
The implication is that the rape of a country is sometimes justified. The victim demanded it. As with rape, what drives the New Right is not love, but domination.
Slavoj Zizek is Professor of Philosophy at the European Graduate School, International Director of the Birkbeck Institute for the Humanities at the University of London and author of Heaven in Disorder (OR Books, 2021).
Copyright: Project Syndicate, 2022.
www.project-syndicate.org